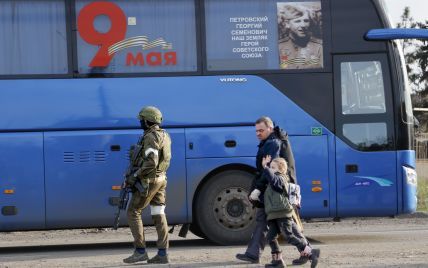 Ілюстративне фото. / Photo: Associated Press

The institution plans to teach children according to a Russian-language textbook.

The invaders opened a "children's center" in the dilapidated building of the kindergarten No. 104 in Ukrainian Mariupol. This was announced by the Verkhovna Rada Human Rights  Commissioner Lyudmula Denisova in the Telegram.

The bombed-out children's institution has no electricity or water and food is cooked on a fire in the yard. In order to create an "image" for hostile propaganda, the Russian invaders disregard the elementary rules for the safety of children and their basic needs.

In addition, the institution plans to teach children according to the Russian-language textbook of the self-proclaimed pseudo-state formation in the ORDO "Alphabet of Donbass", where there are poems with such lines as "Donbass – Russian land" and "our family Russia". 

Such actions of the Russian invaders create a direct threat to the life and health of children, thereby violating the Geneva Convention for the Protection of Civilian Persons in Time of War, and also do not ensure the right of the child to education aimed at fostering respect for the cultural identity, language and national values of the country in which the child lives as stipulated by the UN Convention on the Rights of the Child.

"I am appealing to the UN Commission to Investigate Human Rights Violations during the Russian military invasion of Ukraine and ask them to take into account these facts of Russian violations of children's rights in Ukraine," – Denisova said.