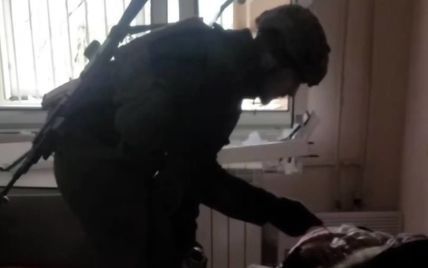 The woman was laying among the ruins under the carpets and couldn't even reach the food ration.

One of the liberated defenders of Mariupol, Ukrainian soldier with codename "Frost" from Azov, shares a footage full of unbearable pain and terror filmed during the Russian siege of the city. The soldier also shared a story of rescuing a local senior woman, whose apartment was bombed by Russian troops. She was trapped in the room with blocked exit, where she couldn't even reach the food ration because her legs were paralyzed.

Frost shared this tragic story in his Instagram account.

"One day we ran into a bombed-destroyed uninhabited five-story building. On the first floor we noticed an apartment with broken doors and decided to go in looking for food and maybe hoping to get a new angle of view to the street. In the room, we found a bed-ridden senior woman covered with carpets and some old jackets", the Mariupol defender wrote in his post.

According to him, it was 5 degrees below zero outside and the freezing wind was constantly blowing, but all windows in the room were shattered. The woman told the military that when the shelling started, her legs get paralyzed because of stress, and then a shell hit her apartment setting it on fire. Then neighbors carried the elderly woman to another half-destroyed apartment where the defenders found her lying among the ruins, and then left to seek shelter themselves.

"While Vet was feeding the old lady with some kind of Nutella from a jar we found in the apartment, and which was out of her reach because of paralyzed legs, I ran around more floors looking for other food and water for her. We found water, but there was no food other than candies. We put everything we could find next to her, so she could reach it with her hands and covered her with normal blankets. Then we did our best to somehow cover the shattered windows with old carpets and rags against drafts", Frost continued.   
        Посмотреть эту публикацию в Instagram                      
After that, the soldier went to a nearby house, told locals about the elderly woman and asked them to take care of her.

"Next day, we were forcing our way to Azovstal plant, so I don't know anything about her further fate", the soldier summarized. 

In the comments to the post, many social media users passionately thanked the Ukrainian military for their bravery and humanity:

•  "My heart is breaking. I have no words to describe this terror. This poor old lady didn't deserve to end her life like that. Immense respect and gratitude to you, guys";
•  "My Mariupol. My grandmother was born during the war, and she died during the war. The house where she was laying in hunger and cold was hit by the enemy shell. Few days after, she was deported to the "DPR", where she die… I hate them, no one asked them (the Russians – ed.) to come here";
•  "I don't think I have enough words to express our gratitude. You are the heroes with great and compassionate heart. Please, recover soon";
•  "This is another story that belongs to the book about people with great hearts";
•  "Humanity! This is something that makes Ukrainian totally different from Russian pigs!";
•  "I cannot even read it without tears in my eyes";
•  "My heart is breaking apart".